Scroll down to see Mark Herring and Chuck Corfman
Doug Neal

LITTLESTOWN Douglas F. Neal, 74, died Wednesday, November 4, 2009, as a result of an automobile accident in Straban Twp., Gettysburg. He was the husband of Veronica (Lajca) Neal. Born September 25, 1935, in Philadelphia, he was the son of the late George and Mildred (Himes) Neal. He was a Store Worker for the Philadelphia Fire Department and served in the U.S. Army. In addition to his wife, Doug is survived by two daughters, Suzanne Driscoll of Langhorn and Patricia Ruwell of High Springs, Fla.; and three grandchildren. He was predeceased by two brothers, Clinton and William Neal. Doug was a member of St. Aloysius Catholic Church, Littlestown, Sons of Union Veterans of Civil War, Gettysburg Camp 112, Gettysburg Blues and Civil War Reenactors of Hanover, and the 16th PA Volunteer Infantry, Co. G. A Mass of Christian Burial will be held Saturday at 11 a.m. at St. Aloysius Catholic Church, Littlestown, with the Rev. James M. Sterner Celebrant. There will be no viewing. Interment will be in Evergreen Cemetery, Gettysburg. Military honors will be conducted by Civil War Reenactors. Contributions may be sent to St. Aloysius Catholic Church, 29 S. Queen St., Littlestown, PA 17340. Little's Funeral Home, Littlestown, is in charge of arrangements.
Past Commander-in-Chief Charles Corfman
Chuck Corfman
Charles W. Corfman, loving husband, father and grandfather, 77, of Holmesville, died Wednesday, September 30, 2009 at The Ohio State University Hospital in Columbus from complications of heart disease.
Friends may call Saturday from 6 to 8 pm at the Roberts Funeral Home – Sherwood Chapel, Wooster. Services will be Sunday at 2 pm at the Wooster United Methodist Church. Burial will be at Sherwood Memorial Gardens, Wooster. Online tributes may be made at www.robertsfuneralhome.com.
Memorial contributions may be made to the American Heart Association, Wayne County Division, P. O. Box 267, Wooster, OH 44691.
Charles was born October 8, 1931 in Newton Falls, Ohio to Vernal Wingate and Florence Avinelle (Morgan) Corfman. He married Janice Mae Krimmer on July 17, 1954. She survives.
Charles was a member of the Warren Jr. Military Band when he was 14.
Charles graduated from Newton Falls High School (Ohio) in 1949 and then from The Ohio State University in 1952, where he was a sousaphone player in the marching band. As a charter member of the OSU Alumni Marching Band, he dotted the "i" in Script Ohio in 1982. He was a 50-year member of Wooster United Methodist Church, where he was a faithful member of the Chancel Choir. He performed in many TubaChristmases and Handel's Messiah performances in the community.

Charles was self-employed, selling farm equipment and raising livestock for many years. He was Past Commander-in-Chief of Sons of Union Veterans, member of Given Camp #51. He was retired Brigadier General of the Sons of Veterans Reserve. Charles was a 4-H advisor in Holmes County. He enjoyed hunting and fishing, and was successful on occasions.

In addition to his wife, Charles will be deeply missed by a daughter – Pamela I. (Frank) Corfman Smith of Fredericksburg, sons Richard W. (Sue) Corfman of Orrville, David W. (Julie Shelton) Corfman of Cincinnati, and Daniel W. (Fay) Corfman of Fremont; seven grandchildren, Heather and Joshua Fath, Christine, Philipp, Kyle, Erich and Amy Corfman, and a brother John W. Corfman of Columbus.
Mark Allen Herring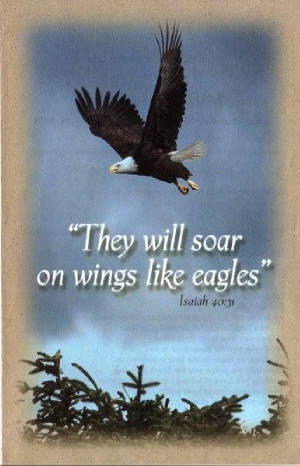 LINK 149 PA BUCKTAILS In Memoriam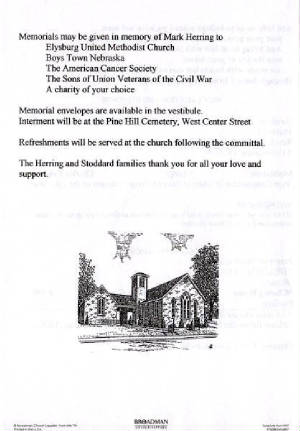 Mark Allen Herring, 53, of
Elysburg, Pa.
, died
Sept. 18, 2009
, with his loving family surrounding him in the home of his ancestors. His illness was sudden but he died peacefully.
He was born in Elysburg on
Dec. 10, 1955
to Rev. Dr. Paul L. and Eleanor (Roadarmel) Herring who survive him. He lived in numerous places in
Pennsylvania
. He was a
Towanda
Area
High School
graduate. He last worked for
Geisinger
Medical
Center
in environmental services. He had been a member of the
United
Methodist
Church
. He was a member of the Sons's of Union Veterans, and the Catawissa Guard. Mark loved writing, reenacting and book collecting, and he was an avid Phillies and Eagles fan.
Survivors include his fiancee Susan Crawford; two sons: Matthew of North Andover, Mass. and Damian of York, Pa.; parents: Rev. Dr. Paul L. and Eleanor Herring of Carlisle, Pa.; and a sister Ruth and her husband Vince Loose and a nephew Andrew of Mechanicsburg and two grandsons.
A service of celebration of Mark's life will be held at on Saturday, Sept. 26, at the Elysburg United Methodist Chburch with Rev. Ivan Alberts and Rev. Dr. Paul L. Herring officiating. Interment will be held in the
Pine
Hill
Cemetery
, Elysburg.
Arrangements are by the Rothermel Funeral Home, Ray W. Rothermel, director.